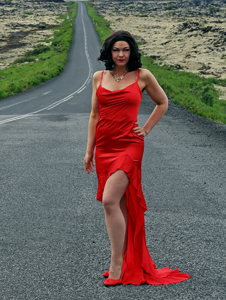 María K Steinsson (1976-2023) born in Reykjavík, Iceland graduated with a BA in Fine Art Painting from City & Guilds of London Art School in 2008 and a MA in Fine Art Photography from Kingston University in 2012.
Working mainly in the medium of photography, María frequently took on the dual role of the photographer and the model. Her work explores themes of identity, time and movement, often using long exposures to capture the passage of time. 
María has participated in group exhibitions both nationally and internationally and has had solo exhibitions in Iceland and Texas. She currently lives and works in Reykjavík.
EDUCATION
2011-2012 Kingston University, Kingston Upon Thames. MA Fine Art, Photography
2005-2008 City & Guilds of London Art School, London. BA (Hons) Fine Art, Painting
1999–2000 The University of Iceland. Art History
1998–1999 The Icelandic College of Art and Crafts. Art Foundation
SELECTED EXHIBITIONS
2023
Wanderlust, Grófin City Library, Tryggvagata 15, Reykjavík
2019
ISO 2019, Korpúlfsstaðir, Reykjavík
2018
Exhibition/Auction,Gallerí Listamenn, Skúlagata 32, Reykjavík
2017
FISL 2017, Mikligarður, Höfn
2016
Extended Moments, Iðnó, Vonarstræti 3, Reykajvík (solo exhibition)
Nostalgia, Reykjavíkurtorg, Grófarhús, Tryggvagata 15, Reykjavík
2015
Still, tAd Gallery, 901 Avenue C, Suite 101, Denton, Texas (solo exhibition)
ISO 2015, the old shrimp factory, Sindragata 7, Ísafjörður
2014
Flat 5, Reykjavik Museum of Photography, Grófarhús, Tryggvagata 15, Reykjavík (solo exhibition)
Imago Mundi: The art of Humanity (global project promoted by Luciano Benetton), Casa dei Carraresi, Treviso, Italy
2013
Parallel Moment, Tad Gallery, 901 Avenue C, Suite 101, Denton, Texas
Arion Bank Street exhibition, Reykjavík
2012
Will Happiness Find Me, Hanna Barry Gallery, 133 Copeland Road, London
Will Happiness Find Me Part II, Kingston University, Kingston Upon Thames
Will Happiness Find Me Event, Kingston University, Kingston Upon Thames
2011
Circus and Bread, The Undercroft, Guildford High Street, Guildford
Bjartir Dagar, open studio, Dverghúsið, Lækjargata 2, Hafnarfjörður
Mannlíf, Café Babalú, Skólavörðustígur 22a, Reykjavík
2010
Flickr@Iceland, Blátt áfram, City Hall, Reykjavík
List við lækinn, Dverghúsið, Lækjargata 2, Hafnarfjörður
A-Klúbburinn, Kringlan, Reykjavík
Photography exhibition, Thorvaldsen, Austurstræti 8, Reykjavík (solo exhibition)
2009
Flickr@Iceland, Mæðrastyrksnefnd, City Hall, Reykjavík
Flickr women, Kringlan, Reykjavík
Mothers 2009, Borgarbókasafn, Tryggvagata 15, Reykjavík, (Traveling exhibition) Iceland, UK, Sierra Leone, Poland)
2008
City & Guilds of London Art School Degree show, 124 Kennington Park Road, London
2007
Flickr exhibition, Reykjavik Museum of Photography, Grófarhús, Tryggvagata 15, Reykjavík
Ice 07 (Icelandic Arts and Culture Festival), Design Centre Knightsbridge, Daily Post and Echo Building, Old Hall Street, Liverpool
City & Guilds of London Art School End of Year show, Artspace Galleries, 18 Maddox Street, London
2006
City & Guilds of London Art School End of Year show, Diorama arts, 34 Osnaburgh Street, London
AWARDS
2008
Chadwyck-Healey Prize for Painting
Minningarsjóður Margrétar Björgólfsdóttur
2007
Idunn Ravndal Travel Award for Norway
Shortlisted for The Rose Partnership Prize
MISCELLANEOUS
Member of The Icelandic Contemporary Photography Association